Welcome to the platform
Below, click LOG IN and paste your login and password to log in. After logging in, click on the Tutorial button to see how to start investing.
To see investment instruments (for ex. gold, EURUSD or US stocks), right-click and select an option - Show everything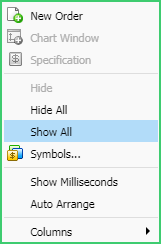 Right click on any instrument and select the option - Chart Window
Click on the icon - New order and decide if you want to buy (earn on rises) or sell (earn on declines) the selected instrument.

In this window you will check the current result of all your current investments.

If you need more information, please use:
TMS Nonstop - a website in which our analysts regularly comment on the situation on the markets and give their investment recommendations
The training calendar is a place where you can find investment training as well as webinars with investment recommendations